Are you stressed out,
do not have enough hours in the day,
let alone time for you?

Are you ready to be EXTRAordinary, and Become All You Can Be?

Announcing:

A new breakthrough Lifestyle Questionnaire and Book filled with Peak Performance Secrets that I've used to train World Champions in Tennis, Football, Boxing, Golf, Athletics, Swimming as well as stressed out people all over the world who want More out of their Life!

From the Desk of: Dr Ann Quinn
8.00am

Dear Friend
| | |
| --- | --- |
| Would you like to know the mindset secrets that help you be all you can be that I have taught to Sporting Champions like Pat Cash to go from 463 in the World to Winning Wimbledon, or an unknown local boys to become World Boxing Champion and World Kickboxing Champion, that helped Athletes, Swimmers, Footballers and Crickets go on to represent their Country and achieve their dreams? | |
Pat Cash, Former Wimbledon Champion and Australian Davis Cup Hero admits
"I would have given up without Ann"

"They say behind every successful man is a woman and relationships aside, Ann has been that one person for me. She helped me become one of the fittest tennis players to ever walk on a tennis court.

And one of the things that make her so special is not only her incredible knowledge of the different ways to train an athlete but her understanding of the other issues that engulf our lives.

Ann is a perfectionist and it shows. She has an open mind and a great thirst to learn and grow and I admire that immensely. She has given me so much strength by her confidence and enthusiasm and without her efforts; I would have given up hope on many occasions.

Above and beyond all that is her greatest quality, her caring heart.

"
I'll be indebted to her for the rest of my days…..I have never seen anyone who puts in the time and detail to their work. She's just brilliant." Simon O'Donnell – Melbourne Herald (Former International Cricketer of the Year)
And it is not just for athletes, whatever your field, the exact same secrets will also help you win the GAME OF LIFE.
Dr Tony Gould – Pianist and Composer, Former Head of School, Victorian College of the Arts, Melbourne University.

I have no hesitation in recording my opinion that

Ann is one of the most remarkable communicators and 'problem solvers'

that I have come across in my career as a performing musician and as an academic. Her

expertise is enhanced by a personality which is both inspiring and endearing

.
We all have amazing internal strengths. Many people have had to overcome incredible setbacks like never being able to walk again or being diagnosed with a life threatening disease. Ann has helped many overcome their challenges and Make the Most of their Life. Three of her Paralympic athletes have won Gold medals, and she too has overcome breast cancer so she fully understands the tough challenges first hand.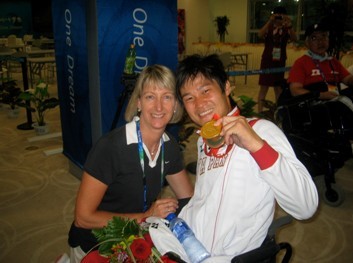 Ann has made a great impact on my life. I never believed I would become the best player in the world. From Ann, I have learned the power of belief, and realized it in reality with various methods that are both simple and effective. Her constant support, and her knowledge in the mental training, physical training, nutrition and on court drills all helped me win all Grand Slam titles and my dream of an Olympic Gold medal. Moreover, she helped me become the person I always wanted to be. I have the greatest respect for Ann and trust in her, and always will. Meeting her changed my life.

Shingo Kuneida, Wheelchair Tennis Player
Paralympic Gold Medallist 2008, World Number One, ITF Wheelchair, World Champion 2007, 2008, 2009

For over 20 years, Ann trained elite athletes and helped them to become super fit. That was the easy part. It is simply a matter of hard work, effort, commitment, and dedication daily. Conditioning their mind was more of a challenge, helping them to be all they could be, to go from someone ordinary to someone extraordinary and become the best in the world.



Ordinary people

can achieve

EXTRAordinary results

if they develop the right mindset and learn to

Become the CEO of their own Life

.

What do you need to Change in your Life? Not happy in your job?
Need to lose weight? Always time poor?

If you knew you could be EXTRAordinary,
what would you be doing?
Imagine not feeling stressed so often and even having time to Play? Wouldn't that be FUN?
Imagine knowing deep down you would WIN in whatever you took on rather than letting that inner voice always tell you off and put you down?

"Ann taught me to not ever doubt myself at all."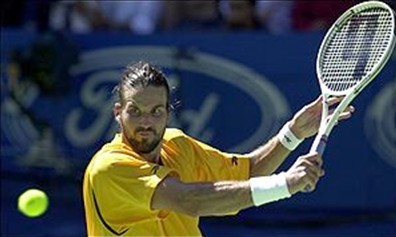 Pat Rafter, Former World Number One and
twice US Open Champion


Imagine always recovering from the tough times and setbacks in your life and come out feeling re-energized and looking forward with excitement to the next challenge? (Chapter 10)
Imagine being able to resolve conflicts quickly so everyone comes out a winner (page 18)
Learn how to develop your own rituals for Success, just like the pros (page 59)
Hi, My name is Dr Ann Quinn, and I'm a peak performance specialist to elite athletes and business leaders around the world.



I have a PhD in Psychology, a Masters Degree in Biomechanics and Exercise Physiology, a Bachelor of Applied Science in Human Movement and a Graduate Diploma in Education and a Diploma in Nutrition!

In simple terms…. I spent 12 years of my life at University studying to learn as much as I could to help my athletes excel, to help others be the best they could be, whether that was on the sporting field, in the board room or at home. I am so committed to helping others and I want to make sure I learned as much as I could. In fact I am still learning each and every day.

I was lucky enough to travel all over the world for over 15 years with these athletes too which was another fantastic way for me to learn by observing greats in action and talking to World Class Coaches from all different sports and fields in Russia, USA, Asia and throughout Europe. I was thus at the Cutting Edge of what real Winners are doing and you will never see that published. I went to Russia and Bulgaria, to learn the secrets of success of their top athletes, to seminars in the US and Europe to study with some masters and having grown up in Australia, I was fortunate to work along side so many great practitioners and World Authorities in the Sports Science fields at the Australian Institute of Sport.

I was picking up little gems around the world and over time began to integrate and develop systems that take into account all my studies and real world techniques and tips to use everyday with my coaching clients. I've whittled away all the nice to have ideas and theories that people have …..and only kept the key nuts and bolts secrets that actually work. My success strategies are thus, powerful and practical.




I have Boiled down my 20+ years of proven Champion Creating Strategies into 100 tips to make the Most of your Life as well as a simple questionnaire that takes just 10 minutes to complete.

So you might ask, why did I put this Questionnaire and book together?

This journey actually began 6 years ago when I was asked to give the keynote address to 800 CEO's at a big International Conference in Melbourne, Australia. I had already worked with many individual leaders in my own coaching practice, and the key issues that came up time and time again were around handling stress, staying fit and healthy, and getting more organized so they could achieve more in less time. The title of my talk became – 'Become the CEO of your Life' and I built it around the acronym

C - Conquer your Stress
E - Energise you
O - Organise your Life


Being the perfectionist I am, I began even more research into this area and the key components of our lives (Health and Fitness, Nutrition, Relationships, Career, Environment, Personal Development, Spiritual, Finances, Planning and Recovery) and over several more years, refined the questions I always asked my clients. This then served as a starting point for my own practice and the tips evolved for the book after over 20 years of working with extraordinary people in all walks of life.

Everyone is unique and different. What I've learned is that there is always one or two limiting areas that are the blockages and stumbling points that are holding someone back from achieving greatness.

The problem is, for everyone it's different. I realized early on in my career that the quicker I could rapidly diagnose what the limiting factors to one's performance are... the quicker I could pinpoint and devise a personalized success action-plan to begin to remove these problems.

Like a CT-scan or X-ray, the Questionnaire asks you 100 questions ranging through every area of your life... (see sample bar chart of results below) and then generates a personalized report with concrete action steps about what to DO to begin addressing these blockages in your life, that are holding you back from achieving your dreams.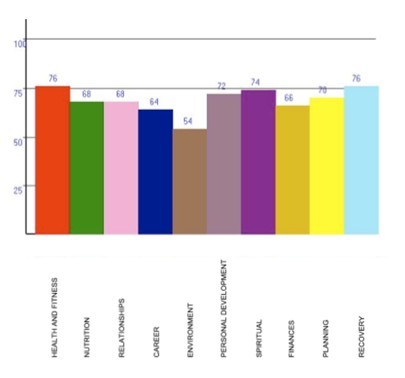 My time is precious, as I am sure yours is too. I have always wanted to be able to help more people but time simply does not allow me. It is impossible for me to coach more than a handful of people per year, which is why I charge a large amount of money for my time. I found it so frustrating that such assessments and information weren't available in any one resource and many of the gems were gathered from all the corners of the world, so by putting my best tips into 'Becoming the CEO of Your Own Life', I have tried to make this available to anybody with the hope, dream, and passion to succeed.

So how does the "Make the Most Of Your Life" Questionnaire work?

It is an electronic, fully automated, quick response, guided questionnaire downloaded on your computer in a flash, which means you can quickly and easily discover all these amazing tips and strategies in as little as 10 minutes from now to help you become a world class performer too. See sample page below.

I have spent over $25,000 creating this assessment system not to mention the years of research and thousands of hours putting it together and testing it. I personally wrote hundreds of different responses depending on how you answered each question and the questions within each category, so you finish up with your own INDIVIDUALIZED and PERSONALISED ACTION PLAN for your SUCCESS.

Here is an example of one of the pages of a report.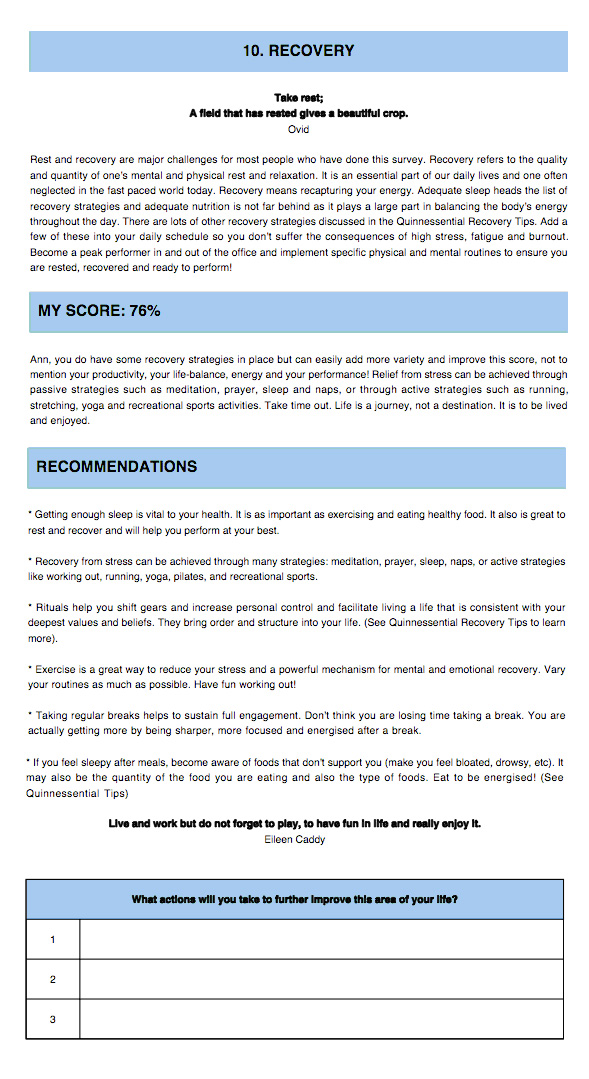 One of my favorite sayings is

"The difference between ordinary and EXTRAordinary is just that little extra'

But, first of all, we need to identify what those LITTLE extras are for you.

This is not like any other test you will find on the internet.

It has been developed and tested over many years with people from all walks of life and backgrounds. Every question has many different responses and thus you will receive individualized results to every question that is specific to You.

I'm bringing you over 20 years of hard work, years of researching information and worldly experience that have been used on all my athletes, and in programs conducted all over the world on topics such as Goal Setting, Stress Management, Emotional Control, Visualization and Concentration, Believing in Yourself, Coping Strategies, Fitness and Nutrition, Creating the Ideal Environment, Overcoming Performance Anxiety, Time Management, and Performance Preparation.

Which means no fluff. Just the real answers you want to know on how to Conquer Stress, Energize and Organize your life with natural, simple to follow cost saving strategies


AND AS A BONUS FOR GETTING THE QUESTIONNAIRE, YOU WILL

ALSO RECEIVE MY BOOK – 'BECOME THE CEO OF YOUR OWN LIFE'

. Here's a sneak peak at what you'll discover from the book
How to energise you! And you don't have to workout to do this one or even eat special foods! Our bodies are the most important piece of equipment we possess. Discover what really gets you going and how you can create even more energy in your life (Page 5)
Develop your own daily routine for success. Winners in the game of life have their own unique success systems, rituals and daily habits. They know they can achieve the goals they set themselves. Learn what the pros do. Live the life you love. Be extraordinary (page 36-39).
Our subconscious mind is so much more powerful than our conscious mind. Learn how to tune in within. All your answers are already within you, if you would only learn to listen (Chapter 7).
3 simple ways to increase your health, fitness and strength – Commit to Get Fit even if you've never thought you had the time or patience to do it. Your health is your fortune. Don't be the richest person in the cemetery. Get fit and you will be truly rich and every other area of your life will fly (page 3-6).
Do you sometimes lose concentration and get tired? Our brain relies on glucose circulating in the blood as its source of energy. Learn how to feed your brain and learn what to eat so you can stay focussed throughout the day (Page 9).
Discover in a matter of minutes how to treasure your family and friends, create new relationships and resolve conflicts quickly without the stress and hassles. Learn different ways of expressing your love to those closest to you. Be open, be honest, be compassionate, be understanding. Show empathy and come from your heart with love and then it is a win-win for everyone. (Chapter 3)
10 Proven strategies for perfecting your environment. Declutter your home and clear your life by perfecting your home and your office and putting systems in place. Imagine how you will feel with so much more energy, and back in control of your life. And you will know where everything is! Make space for what you really want. (Chapter 5)
Stop wasting time. Learn how to plan to win and organise and prioritise all you have to do. Create more time to do what you love and turn your dreams into a reality. Life is a journey, not a destination. (Chapter 9)
The number one hindrance that stops ordinary people from becoming extraordinary is... driving themselves too hard and leaving insufficient time for recovery... discover the secrets that peak performing athletes use (it's mind bogglingly easy), and how it's helping people from CEO's to Kindergarden teachers to get more done in less time. (page 59-62)
That's really just a fraction of what you'll find out in

"Become The CEO Of Your Own Life"

book. And when you take 'Make the most of your Life' Questionnaire you will get your own personal action plan of exactly what you need to do.

And what's even better is, it's so quick.



In Just 10 minutes – take this 'Make the Most of your Life' Questionnaire and begin to crush and demolish the obstacles that have been holding you back from being extraordinary...





Here is a preview of just how easy it is to complete.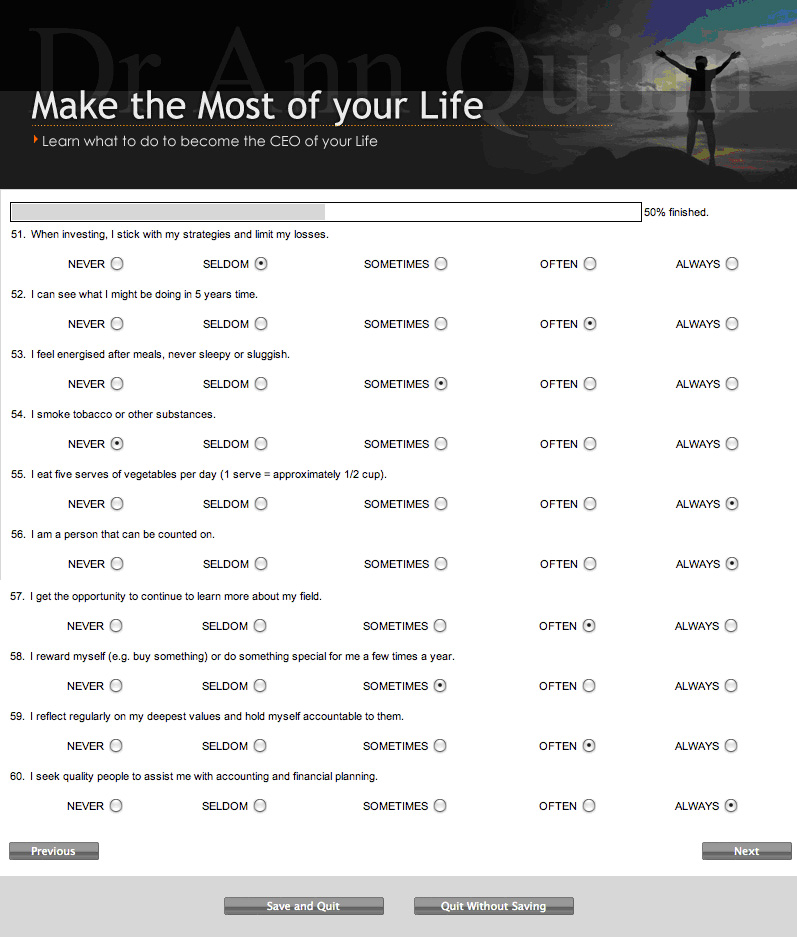 What's a resource like this worth?

This isn't some boiler-plate collection of answers or cheap quiz you find on the Internet that leaves you disappointed and angry because you wasted your time and money in return for Zilch!



For a small fraction of the price of coaching you can get some

awesome advice to help you become extraordinary

- particularly laser-guided, accurate information – SPECIFICALLY for those who genuinely want my help to create new possibilities and discover…life is a journey and not a destination.

And remember you are in the hands of a world class authority....

Dr Ann Quinn - An international presenter on the subject of Peak Performance

For over 20 years I have travelled the world and worked in more than 20 countries inspiring, motivating, educating and challenging others to be EXTRAordinary.

Ann is a world-renowned expert in Physiology and Psychology.
She is one of the International Tennis Federation (ITF) most popular presenters and has presented on numerous topics related to high performance training at ITF workshops including the regional and worldwide coaches workshops. In fact she has been voted top speaker at several of our Worldwide Coaches Workshops. Ann is a member of the ITF Sports Science and Medicine Commission and has also helped the ITF to put together many of our educational resources including the ITF Strength and Conditioning book and the ITF Psychology manual."

Dave Miley - Executive Director, International Tennis Federation


But I don't want to be a world Class Athlete.
Will this work for me?

We are all unique individuals with different needs and different stresses we are coping with, but underneath the principles are the same. That is why I was able to help athletes in sports I hardly knew, like Kickboxing and Boxing become WORLD CHAMPIONS, and also take the same secrets and methods into the Board Rooms and with CEO's. No matter what your career, your sport or whatever your dream, I know you will learn heaps of simple and effective methods and strategies to help you be all you can be.



In fact you'll discover real answers that will give you long-lasting solutions on how to feel fantastic.

Thanks for turning my life around
"The Quintessential Tips in the "Become The CEO Of Your Own Life" book and questionnaire are concise, practical and simply sensational. Then to receive a personalized report on top specifically to my own needs and challenges is just what I needed. Great value for money Ann. Thanks for turning my life around."

D. Simmonds, Sydney, Australia

Thank you for your profound insights
"I always love to learn more about myself and how I can be better. Ann's questionnaire, report and ebook are brilliant. Thank you for your profound insights, your inspiration, and challenging me to really step up. I will be forever grateful."

A. Gallagher. San Francsico, USA

Which is why the

"Make the Most Of Your Life

" Questionnaire is a no brainer investment at $147 if you're serious about changing your life and being all that you can be.

But be warned. Many of my colleagues think I'm giving this away too cheap and I tend to agree. The going rate for a one hour consultation is over $500 so I plan on raising the price from $147 to $197 very soon.

Click Here To Order Securely Through PayPal

Add to Cart

$147 is a drop in the ocean compared to what you'll learn with these secrets. And don't worry; if for any reason you're not completely happy with the information, you have a complete guarantee to protect your investment.

100% Risk-Free, 90-day

Money Back Guarantee

You're my customer. And if you're not happy, it looks bad on me. So if you're not happy or getting measurable improvements towards becoming extraordinary, from the "Make the Most Of Your Life" questionnaire I don't expect…or want…to keep your money. Just simply send off an email to me within 90 days of purchase and I'll happily refund your money in full (in fact I'd be embarrassed to keep it).
But …the responses to the questionnaire and book are yours to keep no matter what as a "thank you" gift from me.

Okay? So you really can't lose! The questionnaire and FREE bonuses are yours no matter what. Now I couldn't be any fairer than that, could I?

But I can go further to make this even better!

Simply take the "Make The Most Of Your Life"
Questionnaire right now, and you will receive
3 BONUS Gifts valued at a whopping $1061!

FIRSTLY you will RECEIVE

A 20* Page Personalised Report Valued at $197

You get a personalised 20* page report based on your answer to the "Make the Most Of Your Life" Questionnaire.

With pinpoint accuracy you'll get to know your strengths and receive your own personal recommendations on what to do to make changes to help you become EXTRAordinary.

(* Report length varies depending on how you answer the questions)

FREE BONUS GIFT 1
"Become The CEO Of Your Own Life"
Valued at $29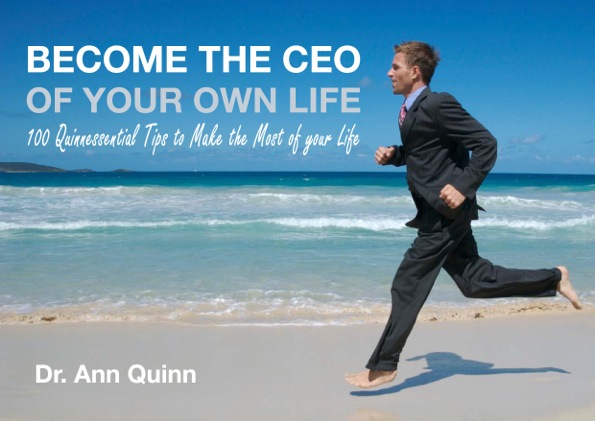 The electronic copy of my book, "Become the CEO of Your Own Life" is a BONUS you'll treasure for life. It contains the 100 Quintessential Tips you need to Make the Most of Your Life!

In it you'll discover:
How to plan for an exciting future. NOW! (page 53).
Understand the importance of quality time (page 16).
How to live the life you love in balance (page 38).
The little known secrets about what drain's your energy so you can take steps to energize your life again and feel fantastic. (page 5).
How to create the power of intention and stay one step ahead of adversity (page 44).
The secret weapon you need to rank tasks and prioritise the most important things in your daily life (page 54)
And much, much more…

You will also receive…

FREE BONUS GIFT 2
FREE email Support For One Week
Valued at $150
for Launch period ONLY

Before I offered this bonus I thought long and hard because my services as a coach and motivator are highly demanded.

Why?

Clients normally pay me over $500 per hour to seek advice about improving their daily performance levels and the overall quality of their lives.



But for a limited time only…



I decided it's only fair to offer you my customer the same benefits I offer my offline clients. So, for 7 days after you have completed the "Make The Most Of Your Life" questionnaire…

…I will give you my wholehearted
support via email FREE!

The reason I'm doing this is because I want to help you become EXTRAordinary too. I will personally answer all your questions and guide you to your success and make sure you really do enjoy the journey.

Obviously I cannot offer this to everyone… It wouldn't be fair to my coaching clients to be spending all my time answering emails…but if you are amongst the first people to buy, then you can be assured of all the support in the world from yours truly, wherever I might be in the world.

FREE BONUS GIFT 3
FREE Re testing for the next two years!
Valued at $735

That's right. You can take this test at any time again in the next TWO years. Compare your scores to previous tests. See your improvements soar. WOW!

That alone is a value of $735 alone!
NORMAL OFFER
PREMIERE OFFER
Make the Most of your Life Questionnaire
√
$197
√


$147

'Become the CEO of Your Own Life' Book (Electronic Version)
X
√


$29

2 Years of Free Re Tests
X
√


$735

Email Support for 7 days
X

$150

VALUE
$197
$1061





To avoid disappointment about missing out on this one time introduction offer, invest in your success today by:

Click Here To Order Securely Through PayPal

Add to Cart

But don't take my word for it on how great this package is. Listen to what people just like you have to say about it

Great test, excellent report, and ebook is simply outstanding and full of gems for life.
Jamie Trindall

If you can't afford a coach, then this is the next best thing. Ann's test and ebook will give you the insight, tools and strategies to make your life whatever you want it to be. The presentation is first class and the quintessential tips are clearly written and easy to understand. Ann's passion and enthusiasm radiate throughout. Thank you Ann
Sandy Church

The package is excellent. Would recommend it to anyone wanting to get real with where they are at and get more out of life. The accompanying ebook adds great value and the tips are brilliant.
Todd De Haan

There is surely no more knowledgeable person in Australia than Ann in her chosen field.
Advantage Magazine

For an investment in your success of only $147, you're getting all the answers you need in the "Make the Most Of Your Life" questionnaire…PLUS MORE.



You can only get this product from me. It's not available in shops, libraries or anywhere else on the net.



Just imagine being able to get these answers downloaded to you so you can set yourself free from the daily stresses and struggles of life…right away.

Click Here To Order Securely Through PayPal

Add to Cart

The time to act is now. I can't wait to get in your corner, just like I have done for so many top athletes, and coach you towards success and to be all you can be.

Remember, it is the little differences that make the BIG Difference.

Order now and within minutes you'll have the answers to a successful, more rewarding future.

Wishing You Quintessential Success.


Warmly,

Dr Ann Quinn.

P.S. Don't forget, for a limited time only you're getting

$1061 VALUE and BONUSES

when you purchase my

"Make the Most Of Your Life"

`Questionnaire.


NORMAL OFFER
PREMIERE OFFER
Make the Most of your Life Questionnaire
√
$197
√


$147

'Become the CEO of Your Own Life' Book (Electronic Version)
X
√


$29

2 Years of Free Re Tests
X
√


$735

Email Support for 7 days
X

$150

VALUE
$197
$1061





P.P.S. And remember, you're investment is fully guaranteed. You have 90 days to see for yourself. If you're not completely happy with your investment, you'll get a prompt and courteous refund of every cent. Plus, you get to keep the

"Become the CEO of Your Own Life"

book and your questionnaire results. You've got absolutely nothing to lose… but you can WIN big time by saying YES right now.

Click Here To Order Securely Through PayPal

Add to Cart

Dedicated to helping you 'Make the Most of your Life'.
Be Extraordinary.

Dr Ann Quinn www.annquinn.com